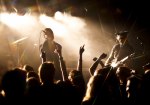 Vi på Doolittle Group är stolta och glada att välkomna Diamondog i vårt artiststall. Diamondog har sin hemvist i Oslo i vårt vackra grannland Norge.
Med sin energifyllda rock kommer Diamondog nå massor av nya fans.

Deras nya album Faithful Unto Death som släpps den 30 maj är sommarens rock album!
Titta på nya videon Like A Diamond och bli hänförd av energin och melodin och du vill boka Diamondog på rockklubben, festivalen, mm.
Ta kontakt med bokningsbolaget DOT Music för att boka en konsert upplevelse med Diamondog!
PelleK är en av våra norska artister vi har på Doolittle.
Han har tillsammans med Tommy ReinXeed spelat in en musik video utanför Paris i Frankrike på öppningsspåret Fugue State från kommande albumet Bag Of Tricks.
PelleK och Tommy har även gjort video tillsammans på Roxette's klassiker The Look från albumet Swedish Hitz Goes Metal.